Products Range


Wax Heater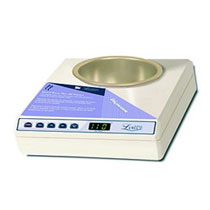 Wax Heater : Digi Warm Wax Warmer - The temperature is controlled by computer which features digital temperature display and quick constant temperature to dissolve wax rapidly. Max temperature is 110°c.
» Preset temperature in four modes: Water 70°c, Oil 80°c, Wax 105°c, Honey Wax 110°c User selectable keys are provided. Select the mode according to requirement of treatment.
» When temperature reaches it preset temperature, the temperature display show Off and audio beep sound generated after every 3 second interval for five times it means the wax warmer reach up to preset level and unit will On automatically when temperature decreases than the preset value.
» After dissolving the wax completely, put the wax pot in to the protective tray . If needed reduce the temperature.
» This can be used on the face, neck, hands ,feet, or the body.
» Leave for 15 minutes, peel off and finish with a moisturizer.
| | |
| --- | --- |
| Product Name: | DIGIWARM |
| Model no. | WAX Warmer |
| Weight | 800 Gms |
| Height | 3" |
| Width: | 8" |
| Depth | 9.75" |
| Voltage | A/C 220-Volts 50 Hz. |
| Absorbed Power | 150 VA |
| Complies With | IEC 601-1 Classification |
| Safety Class | I |
| Operating Temp | 10° - 110° |
| Storage Temp | -10° - 70° |