Products Range


Vacuum Therapy Unit LCS-775D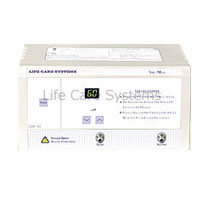 VACUUM THERAPY UNIT : Vacuum Therapy Unit is very compact & fitted with durable pump; this vacuum therapy is used in slimming centres on abdomen. Hips and thigh areas before starting electro-therapy stimulation
Supplied Accessories: Flexible PVC Tubes, Borosil Glass Cups and Plastic Spray Bottle with Metal Cap.
RESULTS & BENEFITS
» Stimulation of the blood circulation.
» Tropic & revitalizing effect on the tissues treated.
» Improved deep hydration & skin quality.
» Improved cutaneous permeability and penetration of treatment products.
» Alleviation & elimination of pain due to neuralgia, sciatica, lumbago, etc.
» Relaxing of muscle contractures.
» Improvement in chronic bone & joint disorder.
SPECIFICATION
| | |
| --- | --- |
| OPERATING VOLTAGE | 230V, 50Hz |
| ROOM TEMPERATURE | 10° to 40° C. |
| STORAGE TEMPERATUTURE | 10% to 70% |
| TIMER | DIGITAL |
| DISPLAY | ANALOG VACUUM DISPLAY |