Products Range


Suspension Frame Accessories With Table LCS-611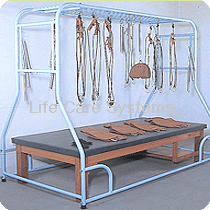 SUSPENSION FRAME ACCESSORIES WITH TABLE : Tubular steel construction.
» Overall size 210cm long. 110cm wide at the base. 50cm wide at the top and 190cm high.
» All welded steel and mesh at the top for complete suspension.
» 12 hooks are provided one each side to hold suspension gear.
» Mesh facilities suspension at any desired point in relation to the patient and as required in each individual case.
» Comes complete with suspension gear comprising 9 canvas slings (6 limbs, 2 trunk, 1 head) 8 single ropes with necessary hooks and cleats, four double pulley ropes, 18 graduated springs of different tensions.
» 12 "S" type hooks and 2 ankle straps.
» Oven baked finish.