Products Range


Stair Case Straight LCS-491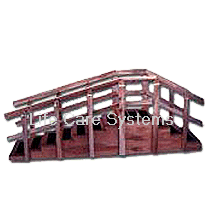 Stair Case Straight LCS-491 :
» Sturdily built in two sections for installation in a straight line.
» Step arrangement: Four 15cm steps on one side, leading to platform size 75cm x 75cm. First step moves into the second to make it a bus step of 30cm height. Eight 7.5cm steps on the other side.
» Steps are 75cm wide and 22.5cm deep.
» Two sets of hardwood and handrails at different height to accommodate adult and children.
» Steps and platform made of commercial board of 12mm thickness is covered with non-slip matting.
» Side and supporting frame of steps are made of commercial board of 18mm thickness.
» Handrails and supporting bars are made of hard wood.
» Polished natural wood finished.