Products Range


Parallel Bar 8 Feet With Platform LCS-501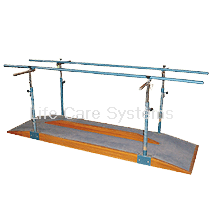 PARALLEL BAR 8 FEET WITH PLATFORM : " The length of parallel walking bar with wooden platform is 3.75 metres; handrail made of chrome plated steel tuning 1.5" outer dia.
» Outer uprights made of thick steel tubing (2" dia).
» Mounted on a wooden platform.
» Height adjustable with rubber 30" to 44" and width from 15" and 25" adjustment can easily to done by mean of setting pins at the required holes and can further be stabilizing tightening the screws.
» Comes with detachable polished teak wood abduction board, which fits on the holes in the middle of the platform steel uprights and handrails are painted.