Products Range


Multi Purpose Exercise Chair LCS-481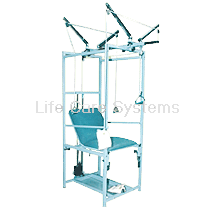 MULTI PURPOSE EXERCISE CHAIR :
» Special designed chair, which require less space and which can be used in small therapy department, where space is limited.
» Tubular steel construction; size 42" long and 26" wide.
» The overhead bar extends 36" beyond from portion of the frame.
» Chair with overhead pulley system can be used for variety of exercise involving reciprocal motion for elbow, shoulder, knees, hips and quadriceps.
» The unit comes complete with two stabilizing straps, two handles, two-foot straps, ropes and pulleys, finished in oven baked enable.