Products Range


Multi Exercise Therapy Unit LCS-471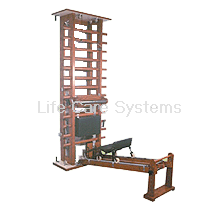 MULTI EXERCISE THERAPY UNIT WITH ROWING.
Bright finished wood construction, suitable for Shoulder, Elbow, Chest and lower limb exercises. Unit consists of the following attachments.
SPECIFICATIONS:
» Wall bars
» Detachable wrist roller with side handle for supination and pronation exercises.
» Removable rowing machine cum sliding seat.
» Unit is fitted with 12 pulleys and Two sets of locking weights that allows effective weight resistive exercises at different levels.