Products Range


Face Lift & Bosom Developer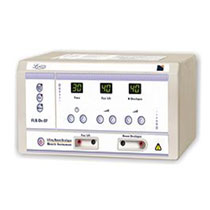 Face Lift & Bosom Developer : A specific treatment that acts on all the signs of skin ageing. A very complete appliance that enables you to perform a number of different treatments:
» Facial firming, anti-wrinkle treatment, automatic lifting, bust firming, buttock firming, anti-stress and anti-fatigue treatment.
» You and your clients will notice the results very quickly. Results are already evident after the first treatment session, and normally 10 to 12 further sessions are usually sufficient to obtain long-lasting results
However, the PSYCHOLOGICAL BENEFITS that clients gain from the lifting treatment are just as important as these physiological effects. The technique is capable of inducing a high degree of relaxation and well being. Lifting is therefore indicated for persons who are under a great deal of stress, nervousness and anxiety, and also for those who are apprehensive about machines and apparatuses. FLB-DX 07 is a portable skin-care unit for your home with full-function digital display, digital timer and digital power switch.
Helps In The Following Treatments
» Face Lifting
» Development and firming of breast
» Toning the skin
» Acne
This technique basically consists in stimulating the facial zone using certain manipulations and passing a micro-current (of very low voltage) whose parameters is similar to the physiological nerve impulses.
The FLB-DX 07 equipment generates a series of rectangular and trapezial micro-currents, which are transmitted to the surface of the skin in:
» Manually. - By way of some electrodes dampened in a conduction product and with specific anti-ageing properties.
» The results are evident from the very first session, but a minimum of four treatment sessions is necessary to see a marked difference and an average of 12 to 15 sessions to obtain durable results.
The FLB-DX 07 equipment consists of a specific micro-stimulation electrical current generator for this treatment.
It is controlled by a MICROPROCESSOR, which turns it into a piece of equipment with a high degree of safety and reliability in the application parameters.
Technical Specification
| | |
| --- | --- |
| Product Name: | FACE LIFT/BOSOM DEVELOPER |
| Model no. | FLB-Dx 07 |
| Weight | 2.3 kg |
| Height | 5" |
| Width: | 10.5" |
| Depth | 7.5" |
| Voltage | A/C 220-Volts 50 Hz. |
| Absorbed Power | 20 VA |
| Frequency | 2 KHz |
| Complies With | IEC 601-1Classification |
| Safety Class | I |
| Operating Temp | 10° - 50° |
| Storage Temp | -10° - 70° |