Products Range


AYU-250W-ANL Machine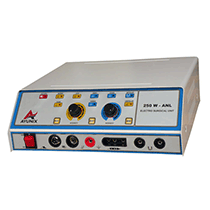 AYU-250W-ANL Machine :
» Light Weight
» Elegant Design
» Simple Operation
» The Reliable Economical
HIGH FREQUENCY ELECTRO SURGICAL UNIT
microprocessor control , innovative design, together with high reliability makes 250W High Frequency Surgical Units the most favorable choice for doctors.
In the used surgical diathermy, the technical ability of the unit combined with plain safety are of prime importance-both for the patient and the user. There must be no possibility of accidental, undesirable results in the use of Ayunix Electro Surgical Units been developed.
The Ayu 250W-ANL are newly developed Electro surgical Units of particular safety and reliability. The Ayu 250W as the most refined unit of its kind in the world.
The technical conceptions of the Ayu 250W-ANL meet the requirements of highly refined, Electro Surgical techniques all national and international safety standards are conformed to or exceeded. It is not possible for the unit to deliver a higher output than has been set on the control. The micro function allows for an instant reduction in the output for more delicate application such as neurological or micro surgery.
OUTPUT CHARACTERISTICS
MODE
MAXIMUM P-P VOLTAGE
RATED LOAD (OHMS)
MAXIMUM POWER(WATTS)
CREST FACTOR* (TYPICAL)
Monopolar
Cut
Pure
Blend
1400
1800
500
300
250
180
1.5
2.5
Monopolar
Coag.
Force
Soft
2200
1800
300
300
180
150
5.0
4.5
Bipolar
Cut
Pure
Blend
500
700
100
100
100
70
1.5
2.0
Bipolar
Coag
Force
Soft
735
600
100
100
70
50
2.5
2.0